Ice Holes!
An Englishman's Years in Siberia
Глава № 9 – Глобализация (по-русски)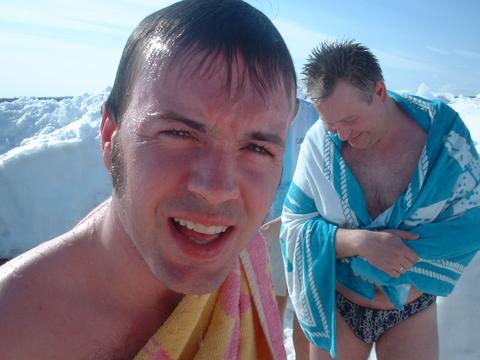 This is the story of an Englishman living for a year and a half in Siberia- a tale of romantic entanglements, visits to uranium mines, nights spent in the tents of Mongolian nomad families, filming advertisements for manicures, muggings, missionaries, mafia and above all the wonderful friendship and kindness that come to all who spend a little time getting to know Russia.
Russia: a country barely understood by foreigners and only a little less baffling to Russians themselves. Russia is life in the raw. No ordinary story of a traveller passing by, An Englishman in Siberia is packed with considered observations on the many differences between Russian and Western life. As the natives say, "Once you leave, you will miss Siberia but you will not know why". Perhaps this book will shed just a little light on why this vast land claims a part of the soul of all who come to know her.
Introduction- An evening with the Russian militia
Chapter One- Five day journey to work across a strange land
Chapter Three- Waiting for spring to spring
Chapter Four- The short, hot summer
Chapter Five- Heading back East
Chapter Six- From the knocking shop to the zoo
Chapter Seven- The Siberian winter
Глава № 9 – Глобализация (по-русски)
Chapter Ten- Once More Unto the East
Chapter Eleven- South Ossetia, A Heavenly Wedding and a Flight from Hell
Chapter Twelve- Adventures in the Russian Far East: Deflecting the Wrath of Kim Jong-Il with Cowpats
About the Author James Brooks is from Chesterfield, Durham, Belper, Norwich and Chita. He loves Star Wars but hates onions. Feel free to email him on jmjbrooks@yahoo.co.uk, or click here for a look at a few hundred Siberian photos. Or if you're feeling kind, please click here to sign the guestbook.
If you want to download .doc copies of the chapters, you can do so here- it's this page but with different chapter links.
Если у кого-нибудь есть желание помочь мне с переводом книги, пришлите, пожалуйста, сообщение на электронную почту (адрес выше)
Copyright James Brooks 2006-2012